The May event for the Transition Town Guildford Sustainable Homes action group will be another house tour and it's an owner retrofitted house with a veggie garden.
This house has simple readily available design features. If you are looking to make your own older style home more sustainable check out this great little house for good practical ideas.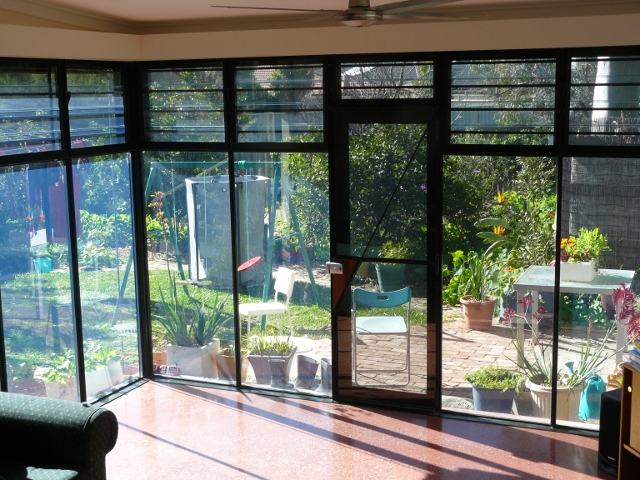 Sustainable refurbishment of a two bedroom duplex which demonstrates that it is possible to buy low cost housing and renovate on a small budget to create a living space that is comfortable and environmentally friendly.
They have kept most of the duplex intact, recognizing the importance of embodied energy in the existing structure.
The home is orientated to the NE using LowE glazing to maintain energy efficiency. Polished concrete floors next to the North facing windows absorb heat in the winter. External shading keeps sun off the NW windows. The home uses barred louvres to allow safe night time ventilation. The home also features SHW system, rainwater tank & re-use greywater. The home has natural lighting, due to a roof window, that is important to how the home functions.

Features include:
Passive solar heating in winter using polished concrete floor
Windows allow for cross-ventilation.
Wicking Bed.
Come join us for this tour taking about an hour followed by arvo tea & quick tour at Enviroment House just down the road (Enviroment House,125 King William St.)
Event Details
RSVP: Numbers are limited, so it's essential to RSVP via Eventbrite
Location: The address will be sent in the confirmation email when you register
Date: Sunday 22nd May

Time: 2- 4 pm
Cost: By donation or bring a plate for afternoon tea

Look forward to seeing you there!